Events
We host a variety of events for our members, our grantees and the community. Member events include a dinner series and group volunteer projects.  We also partner with local groups and organizations on events to further our reach in the community, foster philanthropy, and increase awareness of local needs.
UPCOMING EVENTS
10th Anniversary Dinner Series: Dinner + Conversation with Allan Golston, President, United States Program of the Bill & Melinda Gates Foundation
February 9, 2017
Visit dinnerandphilanthropy.eventbrite.com for more information.
PAST EVENTS
Organizing Neighborhood Equity (ONE DC) Member House Party Fundraiser
November 29, 2016
Black Philanthropy Month Event – Happy Hour for Byte Back DC
August 30, 2016
Black Philanthropy Month Event – Wine & Revolution
Hosted by ABFE, Black Benefactors, Sank Shuned and Special Gathering Wines
August 28, 2016
Black Philanthropy Month Event – Sisters in Philanthropy Panel Discussion, New York City
August 23, 2016
Making Black Lives Matter: How Philanthropy Can Help Black Communities to Thrive
February 16, 2016

Photos from the event are available on our Facebook page. For social media highlights, visit here.
Community Investment Network 11th Annual Conference
"The Power of Our Philanthropy"
October 1-4, 2015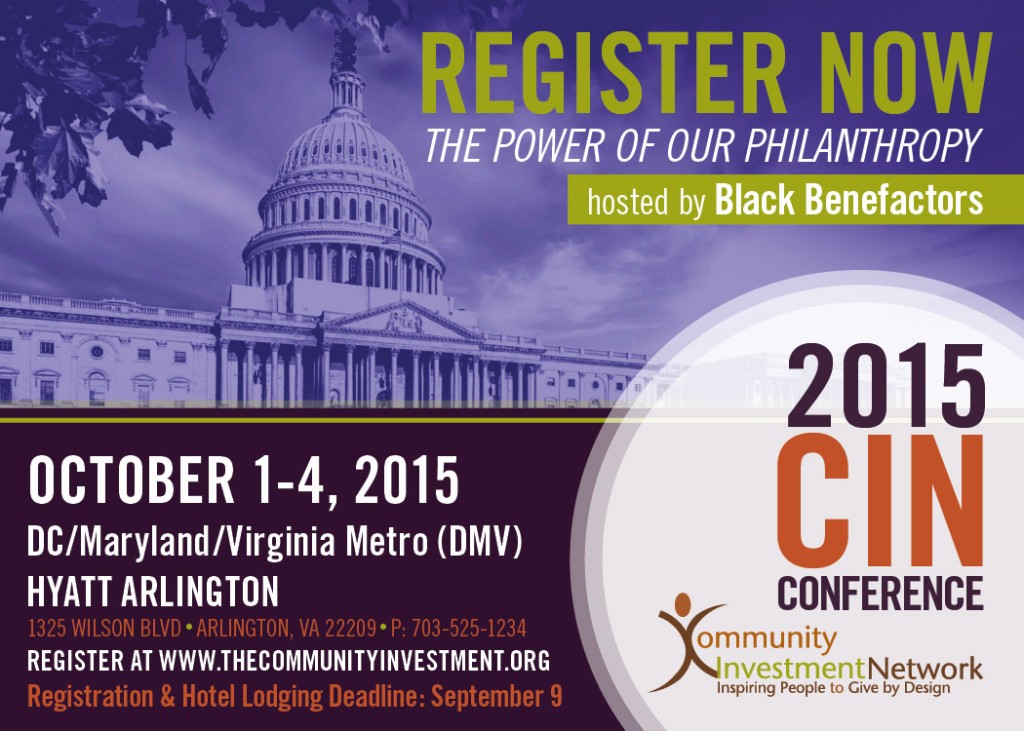 Black Benefactors served as the host giving circle for the Community Investment Network's (CIN) 11th Annual Conference, "The Power of Our Philanthropy," October 1-4, 2015. CIN is a membership organization of giving circles and philanthropists in communities of color. 
BB also hosted the conference kickoff event, "Go-Go Gives Back: A Cultural Legacy of Philanthropy" on Friday, October 2, 2015 at the Thurgood Marshall Center.  Over 125 guests joined us for an intergenerational celebration of go-go music's philanthropic roots. To view photos from the event, visit HERE.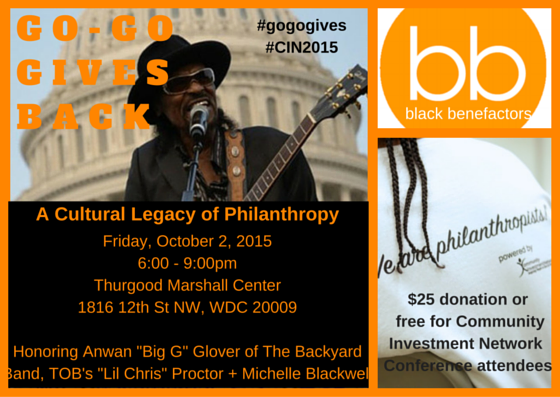 "Petite Rouge, a Cajun Red Riding Hood"
Benefiting Black Benefactors grantee Adventure Theatre Musical Theater Center
Saturday, February 28, 2015
Hosted by Black Benefactors Member Zaneilia Harris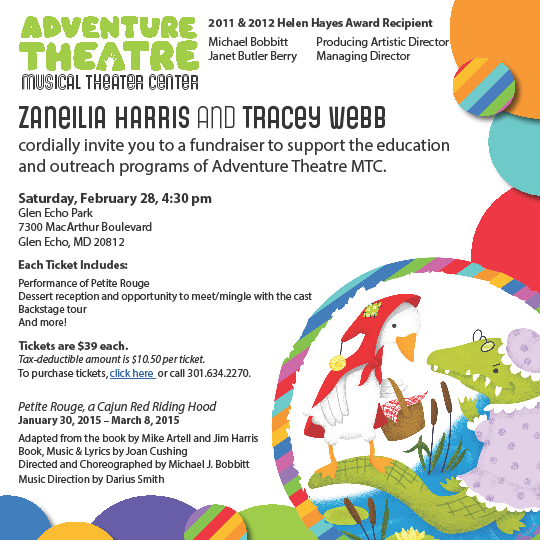 December 3, 2014: "When Dreams Emerge" hosted by 2014 grantee Dreaming Out Loud, Inc.
September 17, 2014: "The Power of Black Giving," Black Benefactors Member Dinner with ABFE
August 16, 2014: Member Volunteer Project with 2014 Grantee Dreaming Out Loud, Inc.
August 2, 2014: Baltimore Young Professionals Member Recruitment Brunch
February 19, 2014: Black Benefactors Member Dinner with Brickson Diamond
December 3, 2013: Annual Holiday Happy Hour Fundraiser at Red Rocks H Street
August 24, 2013: Member Volunteer Project with Friends of Ebonie
July 27, 2013: 6th Anniversary Garden Party hosted by Member Maya Garrett
May 21, 2013: Meet and Greet for Prospective Members and Grantees at Cure Bar and Bistro
February 28, 2013: Black History Month Member Event in NYC presented by JP Morgan Chase and BlackGivesBack.com featuring Philanthropist Christina Lewis Halpern
December 6, 2012: 5th Anniversary Holiday Celebration with Black Philanthropic Alliance
August 26, 2011:  Ebony Magazine Feature Release Party at Dance Institute of Washington
February 24, 2010:  Community Night for Black History Month at International Spy Museum
July 26, 2007:  Black Benefactors Launch Party hosted by Black Philanthropic Alliance at Local 16
Please contact us at info@blackbenefactors.org for event sponsorship opportunities.
Comments & Responses