Member Dinner Series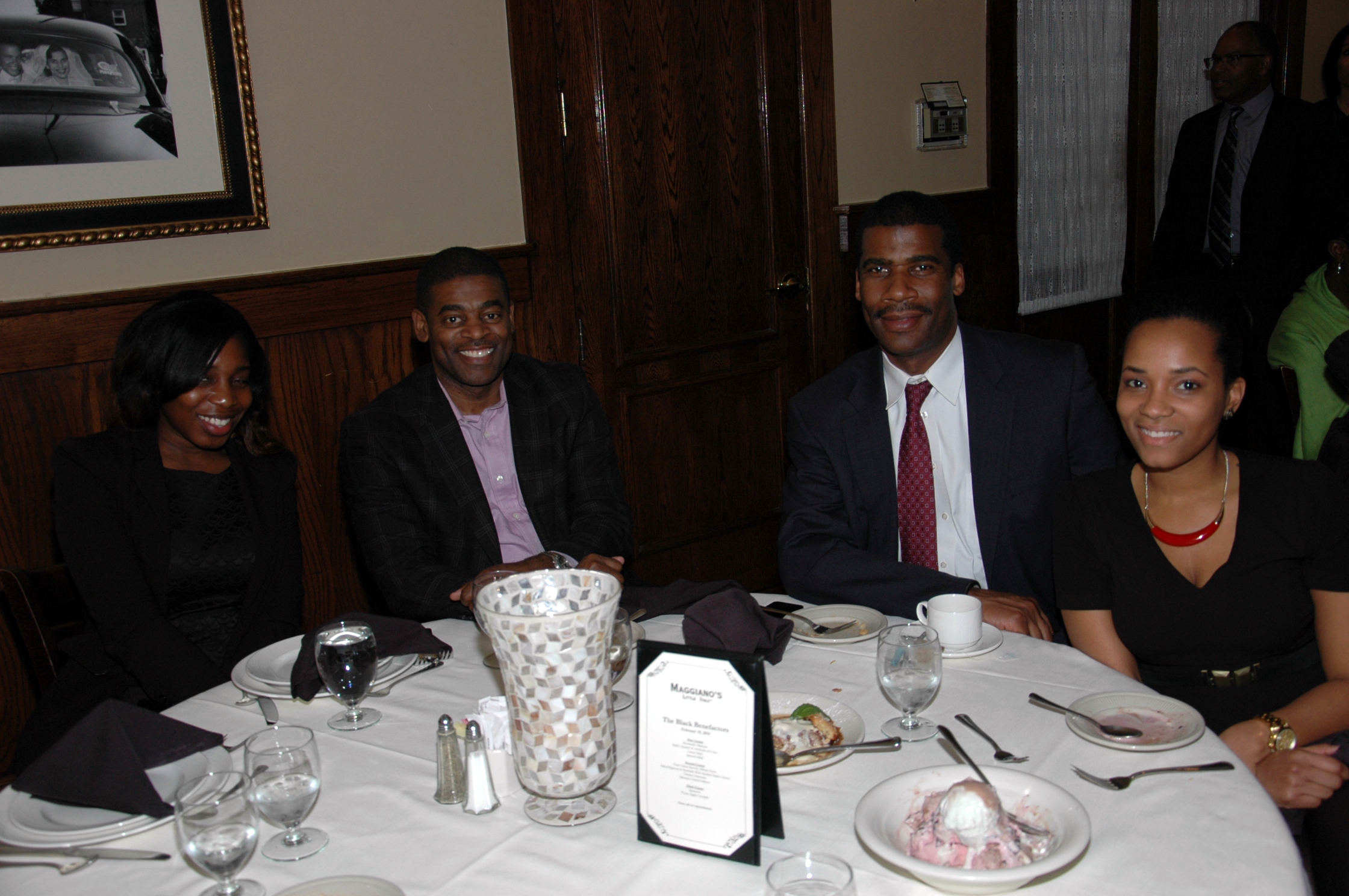 In 2014 during Black History Month, Black Benefactors launched its Member Dinner Series – an intimate gathering for members and special guests that features philanthropists, nonprofit and foundation executives, and corporate trailblazers for a dialogue on giving.
The goals are to learn from philanthropists how they identify causes to support and their approach to giving, educate members on strategic philanthropy that will benefit our collective efforts and their giving beyond the circle, encourage members to identify ways to increase their giving of time and talent, and serve as a networking opportunity.  Each gathering highlights a specific topic in the Black community and fosters an open dialogue and thoughtful discussions. 
PREVIOUS DINNER SERIES
Guest Speaker: Brickson Diamond
Chief Operating Officer, Executive Leadership Council and Executive Leadership Foundation
Founding Board Member, Blackhouse Foundation
February 19, 2014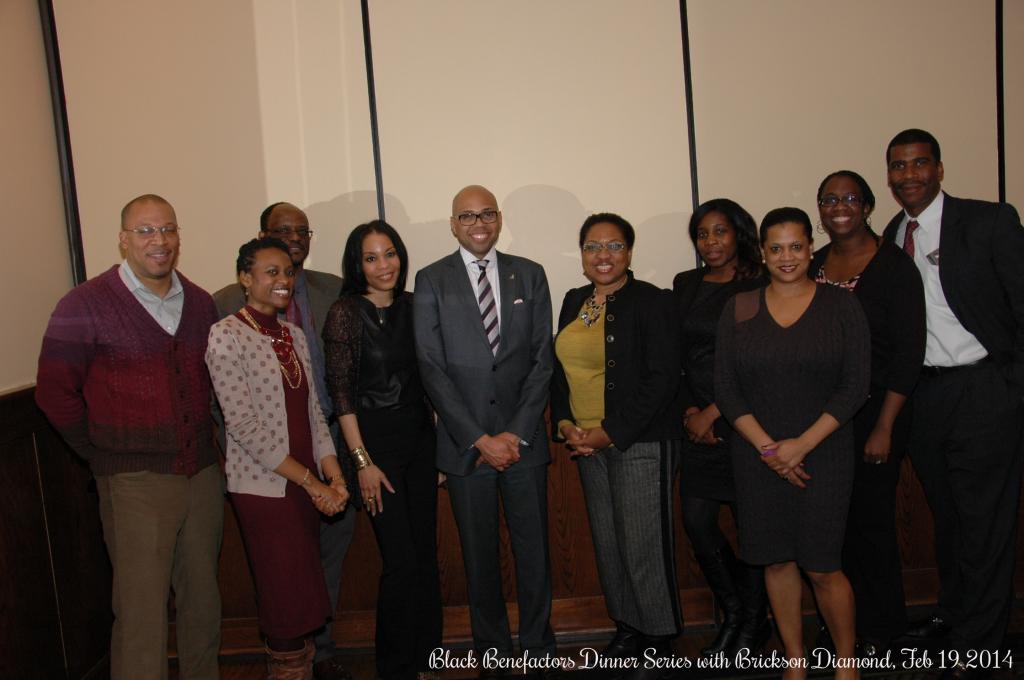 View photos from the event on our Facebook page.
Guest Speaker: Susan Taylor Batten
President and CEO, ABFE (Association of Black Foundation Executives)
September 17, 2014
Topics of discussion included the history of Black philanthropy and ABFE, how one can give strategically and the importance of funding advocacy to strengthen the Black community.  Read live updates from the event here via Storify.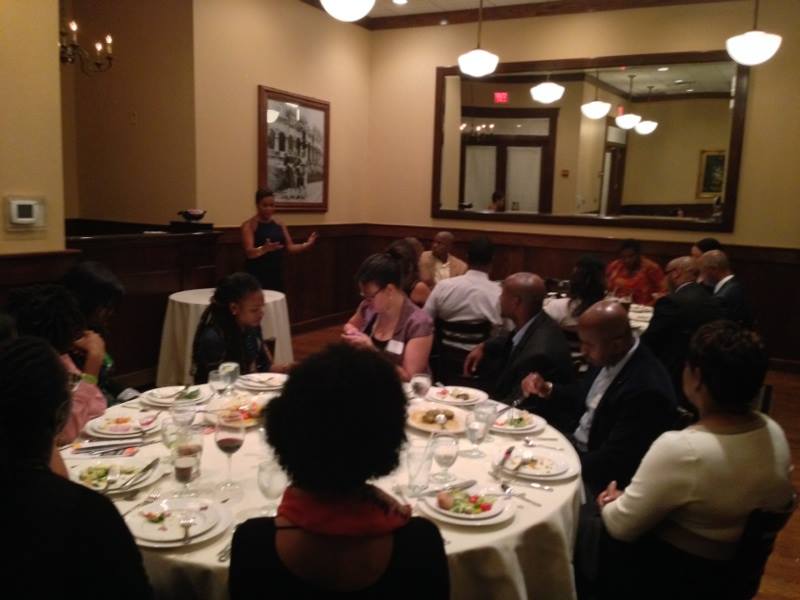 Guest Speaker: Nat Chioke Williams, Executive Director, Hill-Snowdon Foundation
February 16, 2016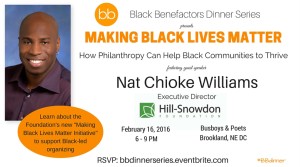 The event highlighted how philanthropy can help Black communities to thrive during this historic time in our nation. The Foundation recently launched the Making Black Lives Matter Initiative, a three-year $900,000 grantmaking and co-funding project that seeks to maximize this historic moment to begin building long-term institutional and political power for Black social change and racial justice. See photos here and social media highlights at https://storify.com/BlkBenefactors/black-benefactors-dinner-series-making-black-lives
Guest Speaker: Allan Golston, President, United States Program, Bill & Melinda Gates Foundation
February 9, 2017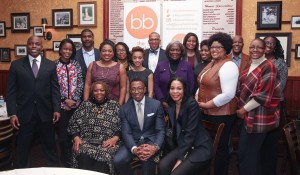 This event kicked off our 10th anniversary year with an intimate dinner and conversation on philanthropy with Allan C. Golston, President, United States Program at the Bill & Melinda Gates Foundation. Presentation highlights featured Allan's career path in philanthropy and how the Gates Foundation is working to create opportunity and close achievement gaps in education.
Comments & Responses